This Week: 1st – 7th August Marks National Surrogacy Week, A Seven-Day Celebration Of UK Surrogacy And For 2022 – Children Of Surrogacy

Published on 05 August, 2022 | Emma Godefroy, Emma Dewhurst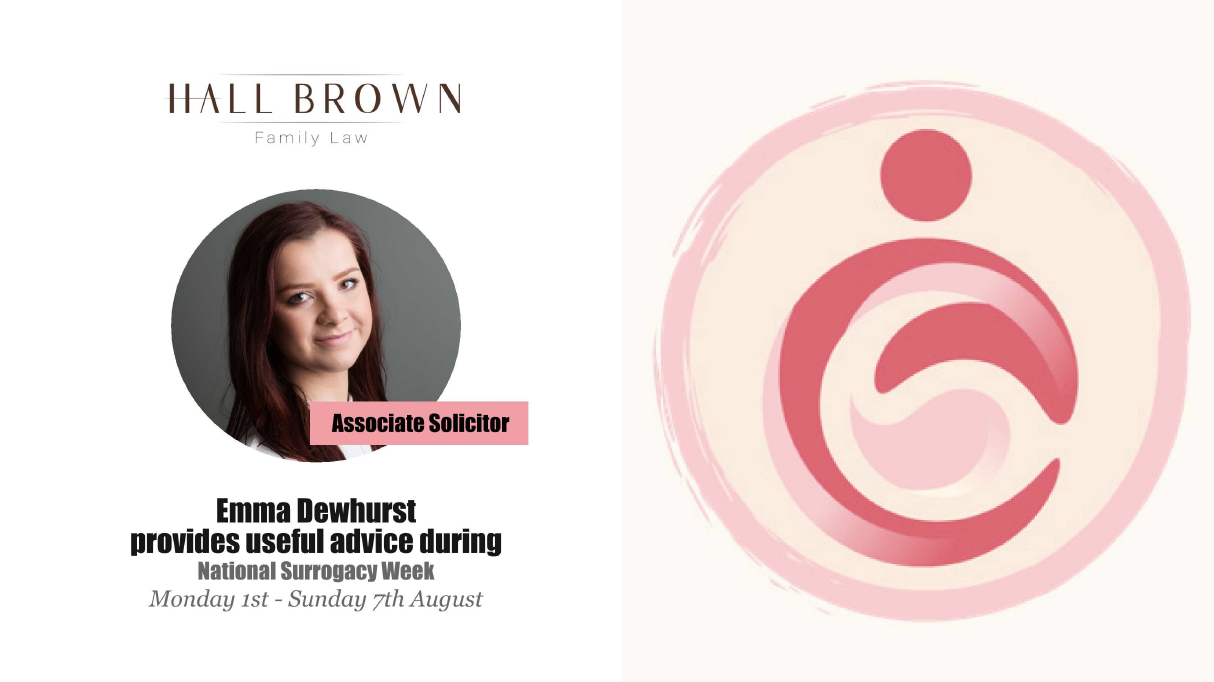 At Hall Brown Family Law, we understand how challenging the process can be and understand that, just as no two families are the same, those embarking on the surrogacy process need support tailored to their unique circumstances at every stage – before conception, during a pregnancy and even after their child has been born. I wanted to take this opportunity during National Surrogacy Week to delve further into the most common issues and questions put to us and to help explain these areas.
A common surrogacy choice that we're seeing more and more often is to look to an overseas arrangement where surrogacy may be more well-established than the UK. However, international surrogacy arrangements come with their own unique set of considerations, which can cause difficulties.
Surrogacy is legal in the UK although is an altruistic and non-commercial model. This means that it is illegal to advertise for or pay a fee to a surrogate (over and above "reasonable expenses" as below).
These laws mean that it is sometimes difficult for intended parents to find a surrogate in the UK as there are less surrogates. This means intended parents sometimes look at overseas countries where surrogacy is more common, more regulated and often operate under a commercial model. The most common destinations to find a surrogate are the USA, Canada, Greece and Georgia.
If you choose to use a surrogate overseas, immigration advice is essential. At Hall Brown we work with immigration specialists who we can put you in touch with right at the outset so you know exactly what to expect and to ensure you can bring your baby home as quickly as possible.
If you opt for an international arrangement, it is also important that you appoint an attorney/lawyer specialising in the surrogacy (and often immigration) laws of that country.
However, even if orders are obtained in other countries (such as a US parentage order), this will not be recognised in the UK. You therefore still need to obtain a parental order if your intention is to live in the UK.
You must apply for a parental order if you want to become the legal parent of a child.
So, what is a parental order?
As the surrogate (and potentially her spouse/ civil partner) is deemed the legal parent upon birth, the intended parents must seek a parental order which if granted, will transfer legal parenthood to them.
The legal parenthood of the surrogate (and that of her spouse/civil partner) would then come to an end. To obtain a parental order, an application needs to be made to the court after birth. It can be applied for as soon as you have your baby's birth certificate. Once granted, a new birth certificate will be produced. Under UK law, any pre-birth contracts or agreements are not enforceable and so a parental order still needs to be obtained.
To obtain a parental order, certain factors must be shown which we can advise you on.
Who can apply for a parental order?
The legislation allows for married couples, civil partners, or those in an "enduring family relationship" to apply for a parental order. As of 3 January 2019, parental orders became available to single parents as well as couples, as long as there is a genetic link.
What is the process for obtaining a parental order?
The timeline for obtaining a parental order is usually between 6 and 12 months. Where you submit your application will depend on whether it is a UK or international surrogacy arrangement. If the child is born in the UK, the application will usually be allocated to a magistrate or a junior judge. If it is an international arrangement or there are other complicating factors, it would usually be allocated to a High Court Judge. The court will appoint a 'parental order reporter' from an organisation known as CAFCASS (the Children and Family Court Advisory Service) who will interview the intended parents and surrogate and thereafter make recommendations to the court as to whether an order should be made.
The surrogate's formal consent will need to be provided which cannot formally be given until 6 weeks has passed after the birth. You do not however need the surrogate's formal consent at the time of filing your application.
There are usually one or two court hearings, with the final hearing typically treated as a celebratory occasion if the parental order is granted.
Where do I start this process and looking ahead
Surrogacy is now becoming a more feasible option for building a family. However, there are many factors that the intended parents must consider before entering into an arrangement.
We advise anyone considering surrogacy to speak to a member of our expert Surrogacy team within our Children Family Law Department.
We also recommend joining a non-for-profit organisation such as My Surrogacy Journey, COTS, Brilliant Beginnings and Surrogacy UK, especially if you wish to find a UK based surrogate, is a fantastic first port of call and they will help support both you and your surrogate throughout your journey. However, it is essential to obtain legal advice from the outset of your surrogacy journey.
We can provide knowledge, reassurance, and practical help throughout to bring about an outcome which is in the best interests of you and your future child.