Individual Award Recognition Due to Collective Excellence, Say Hall Brown Founders

Published on 25 October, 2019 | James Brown/Sam Hall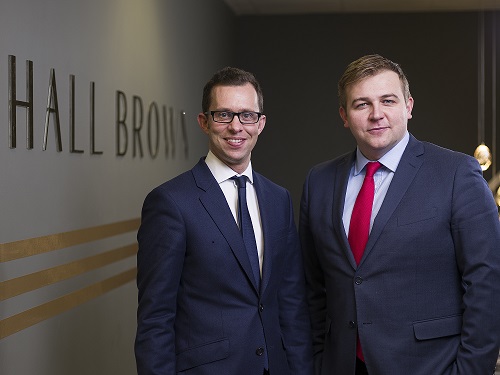 The founders of one of the country's most dynamic law firms have paid tribute to the contribution made by colleagues to its success.
James Brown and Sam Hall were speaking after being highly commended at the Law Society Excellence Awards for a campaign to save a pioneering court system helping prevent the children of parents addicted to drugs or alcohol from being taken into care.
Hall Brown Family Law spearheaded attempts to fund the continued work of the Family Drug and Alcohol Courts (FDACs) following a Government decision to withdraw funding.
Ten months later, ministers reversed their decision and pledged a £15 million package of support to extend the FDACs' work.
The Law Society commendation is the latest endorsement received by Hall Brown only three years after it opened its doors.
Within the last month alone, the firm has secured a place among Britain's top tier family law specialists in two leading legal rankings.
Mr Hall has said that the recognition illustrated the collective commitment to excellence of his colleagues.
"Since setting up in April 2016, we have been able not just to maintain our initial objectives but to refine and expand upon them.
"That is down to having lawyers and administrative staff who are equally focused on achieving the highest possible standards of work, allowing us to develop both geographically and in terms of the projects which we undertake.
"Whilst James and I are sometimes singled out at awards ceremonies, we are in absolutely no doubt that we're in attendance because of a superb team effort."
Mr Hall and Mr Brown were among six nominees for Law Society's Legal Personality of the Year award.
Judges had specified that the FDAC campaign, launched by Hall Brown in July 2018, had been instrumental in their selection.
With the help of a group of private backers and philanthropists, the campaign raised more than £280,000.
The sum was later described as "a vital bridge" in keeping the FDAC National Unit alive until the Children and Families Minister, Nadhim Zahawi, promised £15 million to extend the work of both the FDACs and another programme known as Family Group Conferencing across up to 40 areas (https://www.lawgazette.co.uk/practice/fdacs-to-grow-after-government-pledges-15m-to-keep-children-out-of-care/5070360.article).
Having retained its place as a Tier One firm in the Legal 500 list last month, Hall Brown became the only boutique specialist among the family lawyers named in the Band One category of the prestigious Chambers and Partners guide (https://hallbrown.co.uk/hall-brown-team-secures-chambers-top-tier-ranking/).
In addition to the senior lawyers in Hall Brown's Manchester and London offices being identified as among the country's foremost family law practitioners, the firm was acclaimed for having had "a major impact on the family law market in the North West".