Hall Brown Named North West's Professional Services 'Master'

Published on 05 November, 2021 | Laura Guillon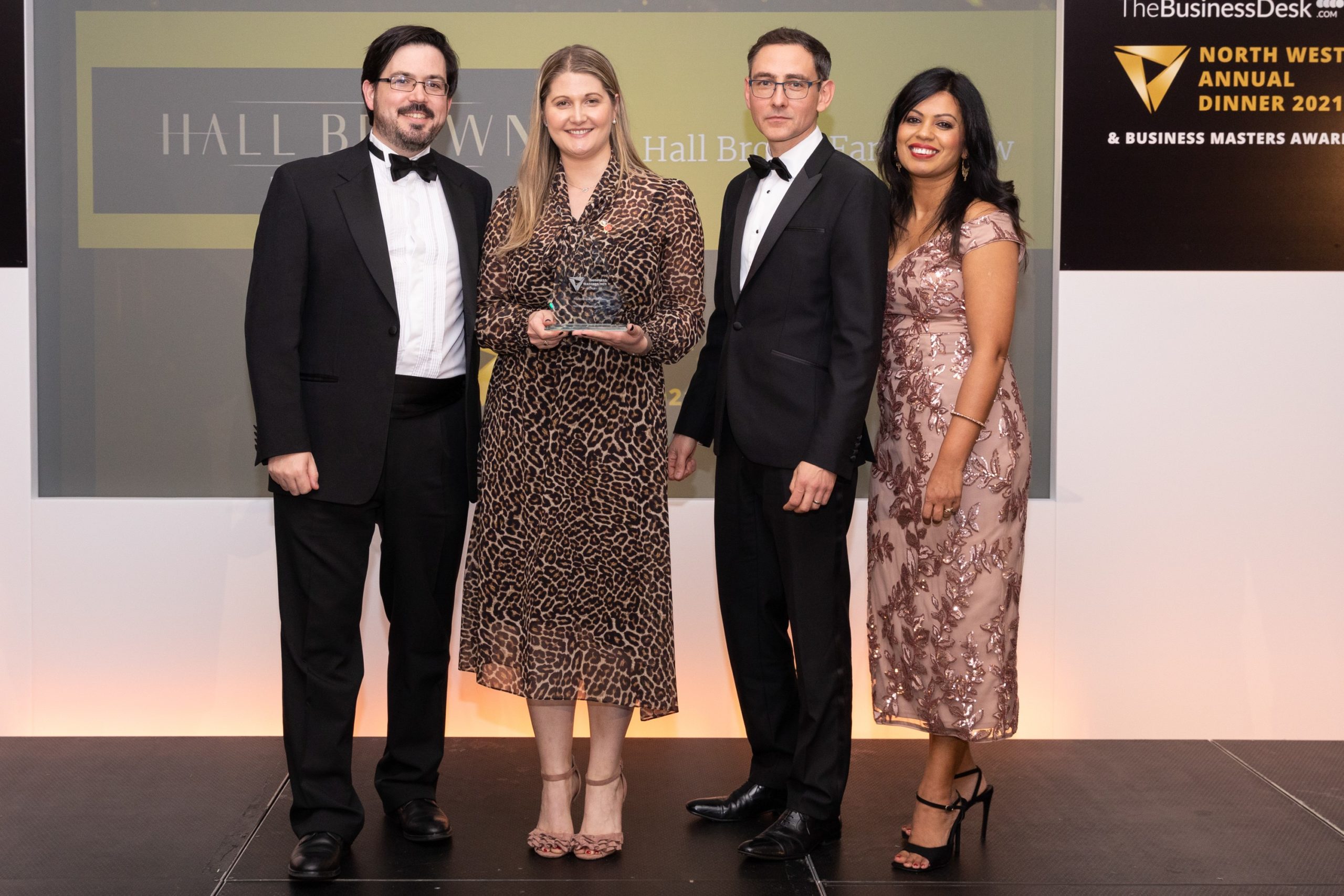 Hall Brown Family Law has hailed the efforts of staff in coping with the challenges posed by the coronavirus pandemic as integral to its picking up another prestigious business award.
The firm has been named as the North West's leading professional services business company in the North West Business Masters Awards. It was also shortlisted in the Awards' Small Business category.
It caps a remarkable couple of months in which Hall Brown has reinforced its position as one of the elite family law firms in two of the UK's most prominent legal rankings and seen both of its co-founders recognised for their talents.
Senior Associate Solicitor Laura Guillon said that the latest award illustrated the degree to which the efforts of Hall Brown's staff over the last 18 months had been apparent.
"The last year has presented lots of businesses with a range of different challenges, so it's wonderful not just to be shortlisted but to be honoured for Hall Brown's ability to deal with the pandemic and keep moving forward.
"One of the most noticeable and most fortunate things was how everyone across the firm – in the North West as well as our offices in London and Sheffield, fee earners and administrative staff – pulled together to provide clients and each other with support.
"In that, we've taken our lead from James Brown and Sam Hall, who put in place the approach and the resources to enable us all to cope with these circumstances effectively.
"What makes this award particularly special is that it is a general business award and demonstrates how our firm has developed and is able to compete with other very capable companies in the professional services community from across the region."
Almost 300 guests attended the Business Masters prize giving ceremony at Manchester's historic Midland Hotel, during which 14 awards were handed out in celebration of the achievement of companies operating in a wide range of business sectors.
Hall Brown was one of five businesses shortlisted for the Professional Services title.
The award comes just two months after Senior Partner Sam Hall was one of only three Manchester-based solicitors to feature in a list of the UK's 100 best private client lawyers.
A fortnight later, his Hall Brown co-founder and Managing Partner James Brown was named Professional Services Leader in the North West Leadership Awards.
That triumph came on the same day as Hall Brown was included as one of only eight law practices to be named as Tier One family law specialists by Legal 500. The firm also retained its Band One status in Chambers and Partners.
Hall Brown had more partners named as Leading Individuals across both rankings than any other firm in the North West, while the heads of its offices in London and Sheffield were also singled out for praise.
Earlier this year, Hall Brown, which employs 49 people, including 37 of whom are fee earners, announced that its turnover had increased from £4.1 million to £5.2 million over the previous 12 months.