Double Top: Further Awards Glory And Continued Growth For Hall Brown

Published on 09 June, 2023 | James Brown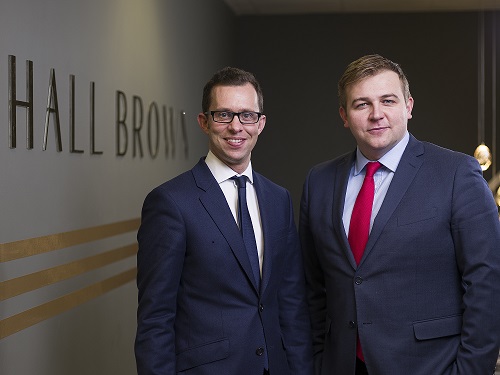 Hall Brown Family Law has set the seal on another remarkable year with a brace of prestigious industry awards.
It was named Medium-sized Law Firm of the Year in last night's Manchester Legal Awards (MLAs).
That triumph was followed on the very same evening by the Boutique Law Firm title at the eprivateclient Excellence Awards in London.
Managing Partner James Brown described both outcomes as "a delightful vindication" of the firm's strategy, which has delivered growth in its staff roster and turnover.
"Since we first opened our doors seven years ago, we have firmly believed that our approach to family law was right – that there really was a market for high quality, flexible support for men and women going through some incredibly difficult experiences.
"However, it's always a thrill to learn that there are individuals outside our offices who share that opinion and, furthermore, reckon that we are going about things in the best way possible.
"The family law market is incredibly competitive and so being recognised both in the city where we have our head office and as among the best anywhere in the country is truly wonderful."
Over the course of the last full financial year, Hall Brown has grown to employ a total of 60 people, 45 of whom are fee earners. The firm has also seen turnover increase from £5.4 million to £6.3 million.
Since the start of 2022, it has opened a new office in Leeds and seen its rapidly-expanding Sheffield operation double in size and relocate to much larger premises.
Hall Brown has its headquarters at the Grade II-listed Ship Canal House in Manchester and a London team based at Lincoln's Inn Fields.
It was one of four shortlisted in the Medium-sized Law Firm of the Year category of the Manchester Legal Awards, which concluded with a glittering ceremony at the city's famous Midland Hotel.
Hall Brown is believed to be the first boutique firm specialising in a single discipline to win the title. It has also twice previously been named Family Law Team of the Year at the MLAs.
Hall Brown was one of 26 firms in the running for 10 prizes at the eprivateclient Excellence Awards.
Last October, Hall Brown was included in the top tier of the publication's Family law table along with a similar placing in classifications compiled by both Chambers and Partners and Legal 500.
The eprivateclient Family law rankings are described as "the definitive guide to the leading providers of advice in areas such as child protection, family governance, pre and post-nuptial agreements, divorce and surrogacy".
As well as firm-wide progress, the last few months have provided individual recognition for Mr Brown, with his appointment last month to an influential Law Society advisory group.
He was one of eight new members elected to the Society's Leadership, Management and Operations Section Advisory Committee.
The Committee was set up to offer guidance on best practice and innovation to senior solicitors working either in-house or in private firms across England and Wales.
Mr Brown said that since the conclusion of the 12-month period considered by the Manchester Legal and eprivateclient Excellence Awards, Hall Brown had seen a further rise in client casework and recruitment.
"We are pressing ahead with recruitment plans at all four of our offices. Given that we have only ever hired lawyers and administrative staff who can help drive us forward, that bodes very well for our collective future."