New Year, New Growth as Hall Brown's "Dramatic " Expansion Prompts HQ Move

Published on 10 January, 2017 | Back to News/Press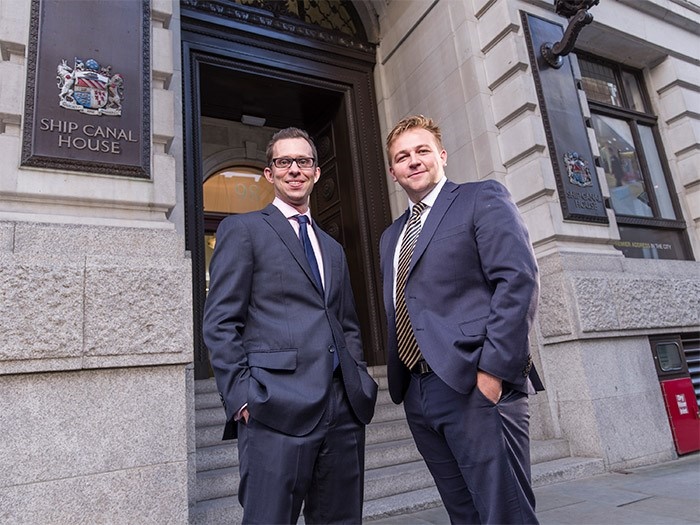 The "dramatic" success of one of the country's newest and most dynamic law firms has resulted in a change of headquarters less than a year after it was established.
Manchester-based family law specialist Hall Brown has moved to one of the city's most prestigious business addresses in response to a rapid growth in client numbers.
Founding partners Sam Hall and James Brown have described how the switch to the Grade II-listed Ship Canal House was intended both to satisfy immediate demand and provide the foundations for further development.
Mr Hall forecast that staff numbers would also increase as the volume of work conducted on behalf of clients based in the UK and much further afield continued to rise.
"We believe that our new offices not only match our firm's ambitions but will enable us to better serve the clients who have been responsible for our remarkable first nine months in business.
"The number and calibre of individuals which we have been able to attract to our brand has bolstered the capabilities at our disposal to deal with a range of different and often very sensitive matters for celebrities, high-profile sports stars, entrepreneurs and professionals at home and abroad.
"It is not a case of having infrastructure and expertise in the hope of attracting work but an indication of our desire to match the very best quality of service that we can to the needs of our existing and future clients."
Mr Hall explained that the suite of offices now occupied by Hall Brown Family Law was six times the size of its first address, which was also on King Street in the heart of Manchester's business district.
The move marks further significant progress for the firm, which only opened its doors in April last year.
Hall Brown Family Law already has a dozen fee earners, including two of the UK's most highly-respected family lawyers – Beth Wilkins and Andrew Newbury – among 17 employees in total.
Along with Mr Hall and Mr Brown, both Mrs Wilkins and Mr Newbury are top ranked with the industry's premier directories, Legal 500 and Chambers and Partners.
Mr Brown disclosed that the credentials of the firm's lawyers had already led to a considerable amount of work being generated from outside the North West. While half of Hall Brown's current clients came from across the region, 25 per cent lived in London and the South East with a similar proportion based either elsewhere in England and Wales or overseas.
"We believe that Hall Brown Family Law has already made its mark in a very short space of time.
"The foundations which we have put in place and the talent at our disposal has allowed us to compete with much longer established firms.
"It means that we undoubtedly have a bright future ahead – both as we look to celebrate our first anniversary in business in just a few months and much further beyond.